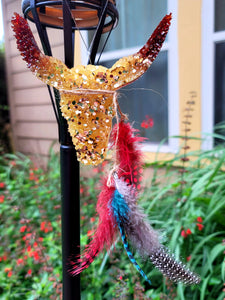 Steer Head Skull 6.5" tall and comes with a clear stretchy string attached.
Steer skull comes with white antlers and with feathers unless requested otherwise; so please put in the PERSONALIZATION box if you want a large flower, flower crown, glitter, or rhinestone decor added. If you do not see the scent or color you would like, select OTHER and then enter your request in the PERSONALIZATION box.  
If you have questions, let me know!
All air fresheners are made fresh to ensure maximum scent strength. So, please allow 3-5 business days for your item to be ready for shipment.
DO NOT place these directly on the dash of your vehicle. The heat from the sun can cause them to melt.
DO NOT INGEST-Keep away from children and pets
I am not responsible for any injuries or damages that occur due to melting.