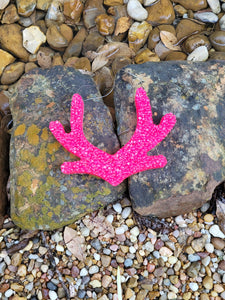 These antler shaped aroma bead air fresheners are made with premium aroma beads and top quality essential oils and fragrances. Each fragrance has its own distinctive characteristics and duration. Most scents will last about 60 days. You may get used to the smell, but others will still be able to smell it.

You can hang these wherever you'd like a boost of freshness! In your car, your closet, locker, bathroom, pet litter area, RVs, even your laundry room. These make great GIFTS!!

Each air freshener measures approximately 6.5" wide x 5" tall and comes with a clear stretchy string attached for easy hanging.

When selecting your color, please choose whether you want plain antlers (no flowers or cut-outs), antlers with flowers, or antlers with a cut-out (ex. if you want blue antlers with flowers, select "blue - flowers" for the color.) If you select flowers, I will add 3-4 flowers that match / compliment the color you choose for your antlers unless you request otherwise. If you do not see the scent or color you would like, select OTHER and then enter your request in the PERSONALIZATION box.  A full list of available scents can be found on our FRAGRANCES page.

If you have questions, let me know!

All air fresheners are made fresh to ensure maximum scent strength. So, please allow 3-5 business days for your item to be ready for shipment.

DO NOT place these directly on the dash of your vehicle. The heat from the sun can cause them to melt.

DO NOT INGEST-Keep away from children and pets
I am not responsible for any injuries or damages that occur due to melting.

If you want to add a monogram / logo/ wording to the back of the freshie; please go to https://www.etsy.com/BathJulez/listing/1077597728/freshie-customization-add-logo-custom?utm_source=Copy&utm_medium=ListingManager&utm_campaign=Share&utm_term=so.lmsm&share_time=1632679975793 and add that item to your cart as well.